WHICH IS THE BEST COMPANY TO BE A FINANCIAL ADVISOR AND WHY BE A FINANCIAL ADVISOR?
START YOUR CAREER AS A FINANCIAL ADVISOR NOW!
Take this quick financial advisor quiz to know if you are fit to be a financial advisor by clicking here.
The job of being a financial advisor in the Philippines is quite different from other advanced countries. In other countries, financial advisors are paid consultancy fees for giving money advise. For example giving advise which among the financial products is best for the client.
In the Philippines however, financial advisors earn through commissions for selling products since most Filipinos will not pay for consultancy fees for financial advise given to them. At least for the coming years we will see this kind of compensation for financial advisors in the Philippines to be commission based and not consultancy fees.
For those wanting to be financial advisors, one of the considerations to become one is whether the company you are applying for to be a financial advisor provides the highest commission per sale. This process is similar to looking for a regular employment job where you always would want to work with the company with the highest offer. For example, if you will be employed would you choose to work for a company that gives P100,000 per month vs only P50,000 per month? Most likely you would go for the highest offer. Aside from compensation, financial advisors also look at the kind of products being sold if they are good quality or affordable.
Before this blog was written we took a research among all major life insurance companies in the Philippines to determine which life insurance company provides the highest commission for financial advisors. And here is the result of our research:
Based on our research Insular Life is the insurance company that provides the highest commission for financial advisors for 2022. This is because for a sale of P30k per year (10 years payment) of its product the agent can earn 65% on the first year (FYC), 20% on the second year and 15% on the third year payments of the client.
Let's simplify and make it clearer. Suppose the financial advisor sold P30,000 per year Multiple Pay VUL plan (lifetime paying or limited premium holiday), this is how much the agent will earn:
Year1: P30,000 x 65% = P19,500 First Year Commission (FYC)
*Based on the current commission rate for advisors July 2022 – Sept 2022.

Year 2: P30,000 x 20% = P6,000 Second Year Commission + 35% Persistency Bonus (P2,100.00) = P8,100 Total Year 2 Earnings
*Persistency Bonus is given if 80% of the financial advisor's previous clients are paying their insurance premiums on time and no lapsed policies.
Year 3: P30,000 x 15% = P4,500 Third Year Commission + 35% Persistency Bonus (P1,575) = P6,075 Total Year 3 Earnings
Total Earnings for the agent for this Plan is = P19,500 + P8,100 + P6,075 = 33,675
*Based on our research only InLife can provide this much commission rate. Please contact us if you think our research is wrong.
Additional benefits on top of the agent's commission for qualified producing advisors:
*Life insurance benefit of P3M given to the family of the financial advisor if the advisor dies due to normal or accidental death
*Daily hospital allowance of P5,000 per day if hospitalized, plus medical expense reimbursement for doctor's fees, laboratory and other related hospital expenses
*Company retirement pension benefits
*On top of what Insular Life gives, Aetos Insurance Agency also gives free health card for top advisors
*Also during calamities, Insular Life usually gives free cash assistance like during the COVID pandemic they gave free P8,000 per agent regardless if they had a sale or not.
INLIFE ADVISOR CAN SELL OTHER PRODUCTS:
Further an InLife agent is the only agent that can offer all types of insurance products and thus increasing possible income:
Health Card from Insular Health Care (Subsidiary of Insular Life) – Commission rate is as high at 15% every year
Car, Property and other Non Life Insurance from Mapfre Insular (Subsidiary of Insular Life) – Commission rate is also competitively high
Group Insurance – Sell an insurance policy with only one company master policy for all employees (minimum 5 employees per company) which is much cheaper than individual plans. Insular Life also gives high commission rates for group insurance sales.
HIGH RISK HIGH RETURN JOB
It could be tempting to say that Insurance Agents are earnings so much. However, note that the life of an insurance agent is brought about by many rejections and frustrations. In order to make 1 sale you need to talk to as much as 10 people especially if you are inexperienced.
First advisors do not earn a fixed salary essentially making them no work no pay. It is just reasonable to earn more than regular employees or else there will be no reason for people to shift to this profession. Second, unlike other sale professions like real estate or car sales where there is usually no obligation after the product has been sold, being a financial advisor is different. Thus, if the client got a life insurance policy, this means that the agent will need to keep reminding clients for due dates, assist client on their concerns and answer their questions for as long as the client is alive. Imagine if the client is age 25 now and is expected to live until age 80. This means that the financial advisor is bound to serve the agent for the next 55 years! Thus, it is just fair to pay around 10% of the total 10 year premium (P30k per year x 10 years = P300,000 total client payment gives a commission of P33,675 to the advisor in the next 3 years) as compensation.
The commission rates for insurance agents may look big on the onset but it entails a lot of responsibility to take care of the client until the client essentially dies where the agent will also help in the claims process and coordination with the beneficiaries upon their death or sickness.
So at the end of the day, being a financial advisor is like having a business. You have to have that entrepreneurial spirit. Indeed, it is the highest paying hard work and the lowest paying easy work – and either way you choose your income.
ARE THE PRODUCTS GOOD?
Another question potential financial advisors would ask is, are the products good enough? The illustration below is a sample of a P30k per year for 10 years for 1M coverage and an option to add 1M critical illness benefit through a rider. We assume a 32 year old female in this proposal:
The plan above provides 3 in 1 benefits:
Life Insurance that will be given to the beneficiaries if the insured dies: P1 Million
Critical Illness benefit that will be given to the client if the client is diagnosed of an illness such as cancer, heart attack or stroke: P1 Million
Fund Value that can be withdrawn in the future as follows (8% medium):

After 10 years (age 42) withdrawable amount of P349,000
After 15 years (age 47) withdrawable amount of P508,127
After 20 years (age 52) withdrawable amount of P739,161
Age 65 withdrawable amount of P2,004,459
Age 70 withdrawable amount of P2,945,209
IS INSULAR LIFE A STABLE COMPANY?
For several years in a row now, Insular Life belongs to the Top 3 largest life insurance companies in the Philippines in terms of net worth. Net worth is total company's assets less liabilities.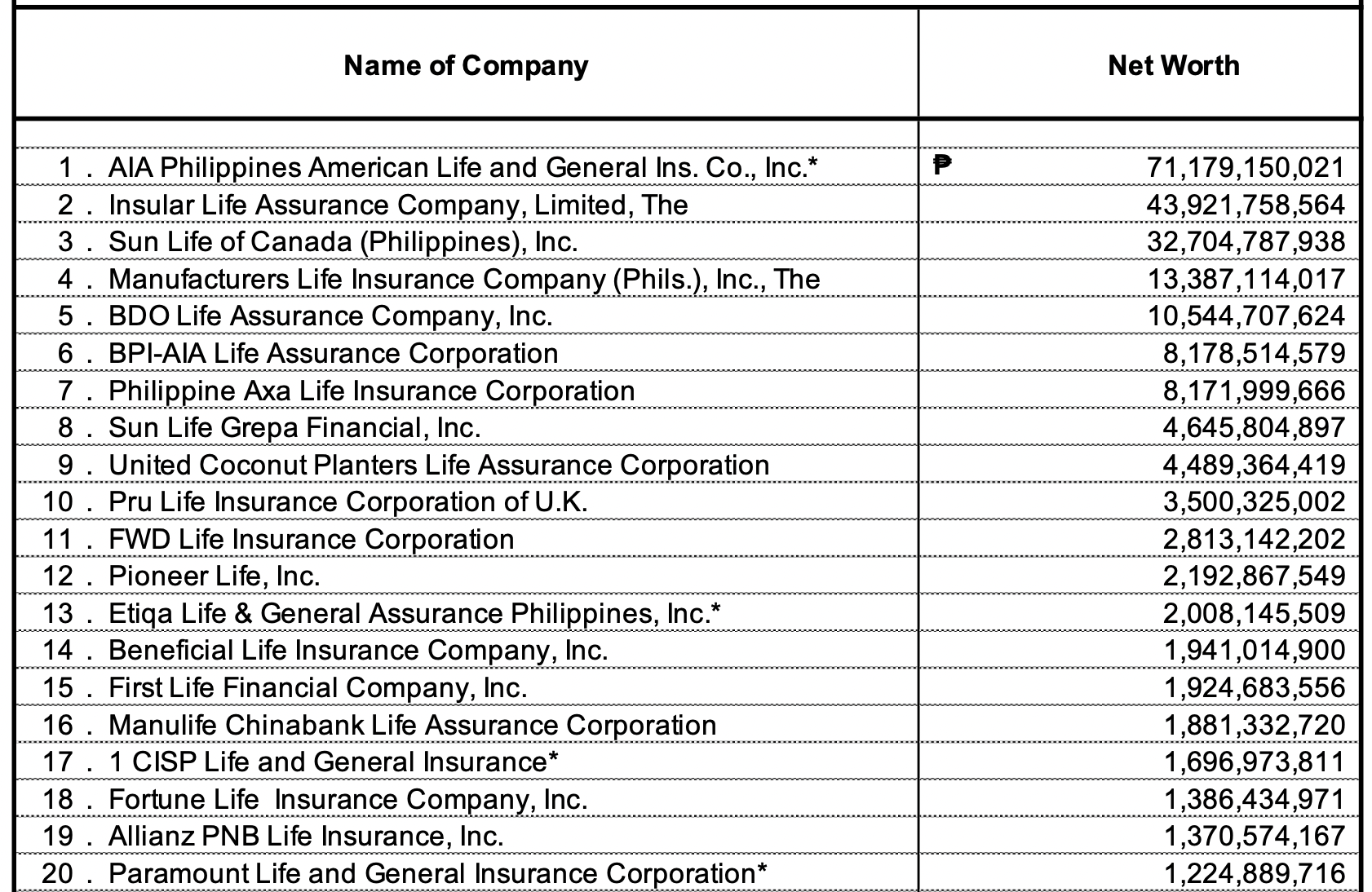 Source: Insurance Commission (Largest Life Insurance Companies in the Philippines as of December 31, 2021) https://www.insurance.gov.ph/wp-content/uploads/2022/04/Life-Rankings-2021-based-on-Q4-Net-Worth.pdf
CONCLUSION
As you can see Insular Life could be considered one of the most generous insurance companies in the Philippines because of the reasons I stated above. One of the probable reason why Insular Life has the best compensation is that the company is a proudly 100% Filipino company and all of the salaries it pays to its employees are probably based on Philippine standards because they don't have employees who reside out of the country which makes the costs cheaper. Second probable reason would be that it is the only mutual benefit company in the Philippines. Meaning, it does not have any stockholders because the owners of Insular Life are its clients. Thus, it does not have to give dividends to private stockholders unlike stock corporations making Insular Life less prone to pressures from stockholders who want to make a lot of income per client in order to receive high dividends from the stock company.
START YOUR CAREER AS A FINANCIAL ADVISOR NOW!
Take this quick financial advisor quiz to know if you are fit to be a financial advisor by clicking here.
ABOUT THE AUTHOR: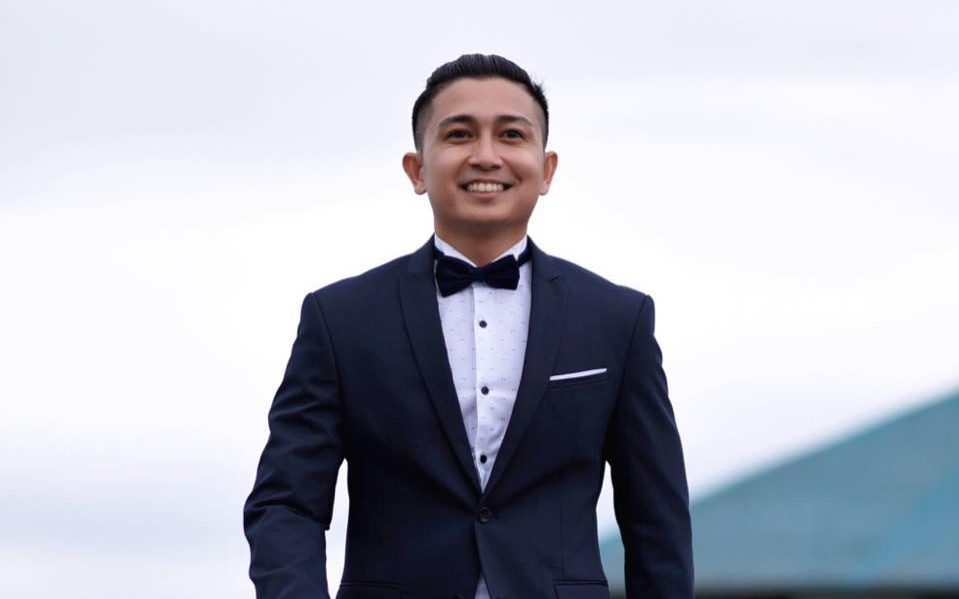 Mark Fernandez is a CPA, RFC, AFA started as a financial advisor at age 22 in year 2009, becoming an MDRT member at age 23. He is currently a life (at least 10 years MDRT) and qualifying member of the MDRT and is a 2022 Top of the Table Member. He has served to make meaningful changes in the life insurance industry by being a board of trustee of the Life Underwriter's Association of the Philippines (LUAP) for 5 years. He is also the chairman of the FinancePH Group of Companies. He is the founder of Aetos Financial Insurance Agency Inc. Currently Aetos is the Top 1 in terms of FYP and Top 5 in APE in life insurance agency rankings nationwide 2021. His parents are humble farmers in the city of Dumaguete. You may reach him at chairman@financeph.com or visit Aetos office in Makati.
START YOUR CAREER AS A FINANCIAL ADVISOR NOW!
Take this quick financial advisor quiz to know if you are fit to be a financial advisor by clicking here.