Share Now
They dodged a big bullet.
Mica Fernandez and her husband, Mark Joseph, faced one of their biggest fears in this time of pandemic. Two weeks ago, their 16 months old daughter, Sam, was rushed to the emergency room because of very high fever. While some parents do not get alarmed, most first time parents do. Without hesitation and knowing that their child is insured, they rushed their daughter to one of the best hospitals in town.
It is true that when a child gets ill the whole family can be stressed, nervous and affected. It was the mood in the next five days as they prayed and waited for their daughter's condition to get better. Not knowing what will happen next, Mica and Mark – just like what any parents would feel – had trouble coping with the stress reactions.
Moreover, it was quite a lonely situation to be locked up in a hospital room, unable to go out freely with everyone afraid of getting near them due to the stigma that Sam could have had a viral disease. Sam needed to take a swab test to confirm if she contracted coronavirus. Imagine the pain their little baby had to endure as a six-inch long swab was inserted into her nose and rotated it for at least ten seconds. Painful for the child. But much more painful for the parents. Luckily, the test yielded a negative result.
However, Mark and Mica could not yet breathe a sigh of relief. As Sam was scheduled to be discharged from a private hospital, here came another difficult part -paying the hospital bills.
In a 2019 survey conducted by PhilCare, it was revealed that 40% of Filipinos cannot afford to pay their hospital bills. This study has confirmed what we already know is true: healthcare in the Philippines remains unaffordable and it continues to become more expensive. This is why the need for healthcare coverage has never been clearer.
Thankfully, Mica and Mark have seen this life event coming. And when it came, they were more than prepared.
"Ayaw natin magkasakit mga anak natin. Bukod sa meron tayong emotional burden, makaka-experience din tayo ng physical exhaustion and financial stress. As much as possible, tanggalin natin yung financial stress by getting the coverage or health card for our children," Mica said, citing the importance of availing child health insurance plans.
They know that children are more prone to injury and illness than adults. And she believes that while health insurance for children could be an additional expense, its benefits should not be overlooked. For Mica, investing in Insular Life's child health insurance plan is a worthy decision. This allowed them to give Samantha immediate care and attention at the best possible way.
"This is why nag-invest kami sa health card from Insular Life for our sixteen-month old baby," Mica said.
Because of it, they do not need to pay big out-of-pocket medical expenses. From almost P60 000, Mica just spent P4,000 for Sam's hospitalization, with the COVID test and PPE not covered by child health insurance.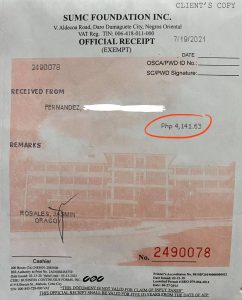 To this, Mica said, "If you are prepared, di na iisipin ang pagbabayad. Malaking tulong ang health card, imbes na maglabas ng pera."
It was as if they dodged a big bullet. But it wasn't luck or magic. They prepared for it. You, too, can.
Watch the video below of their daughter's last day at the hospital: