Share Now
Insurance plays a crucial role in securing one's financial future, and among the various types of insurance policies available, whole life insurance is often seen as a unique and comprehensive option. Whole life insurance, as the name suggests, provides coverage for an individual's entire life, unlike term life insurance, which offers coverage for a specified period.
What Is Whole Life Insurance?
Whole life insurance is a type of permanent life insurance policy that offers lifelong coverage, as long as the policy premiums are paid. It combines a death benefit with a savings or investment component, known as the cash value. The key features of whole life insurance include:
Lifetime Coverage: Whole life insurance is like a lifelong security blanket. As long as you keep paying a little bit of money regularly (called premiums), it's there to help your family when you're not around anymore.
Cash Values: Part of the money you pay in premiums doesn't disappear. It goes into a savings account that grows over time. You can think of this like a secret piggy bank that can be a big help later in life.
Steady Payments: The amount you pay for whole life insurance stays the same as long as you have the policy. It's predictable, like a fixed monthly bill.
Family Financial Help: If something happens to you, your family gets a bunch of money (called a death benefit). This money can be used to pay for things like funerals, debts, and just general financial support.
Manulife Philippines, partner life insurance company of Aetos Financial, offers a whole life insurance plan that can provide you coverage in every SEASON of your life.
Seasons 100 provides you with guaranteed protection and more throughout your lifetime.
There are 4 Seasons variants you can choose from to make sure you get the protection you need.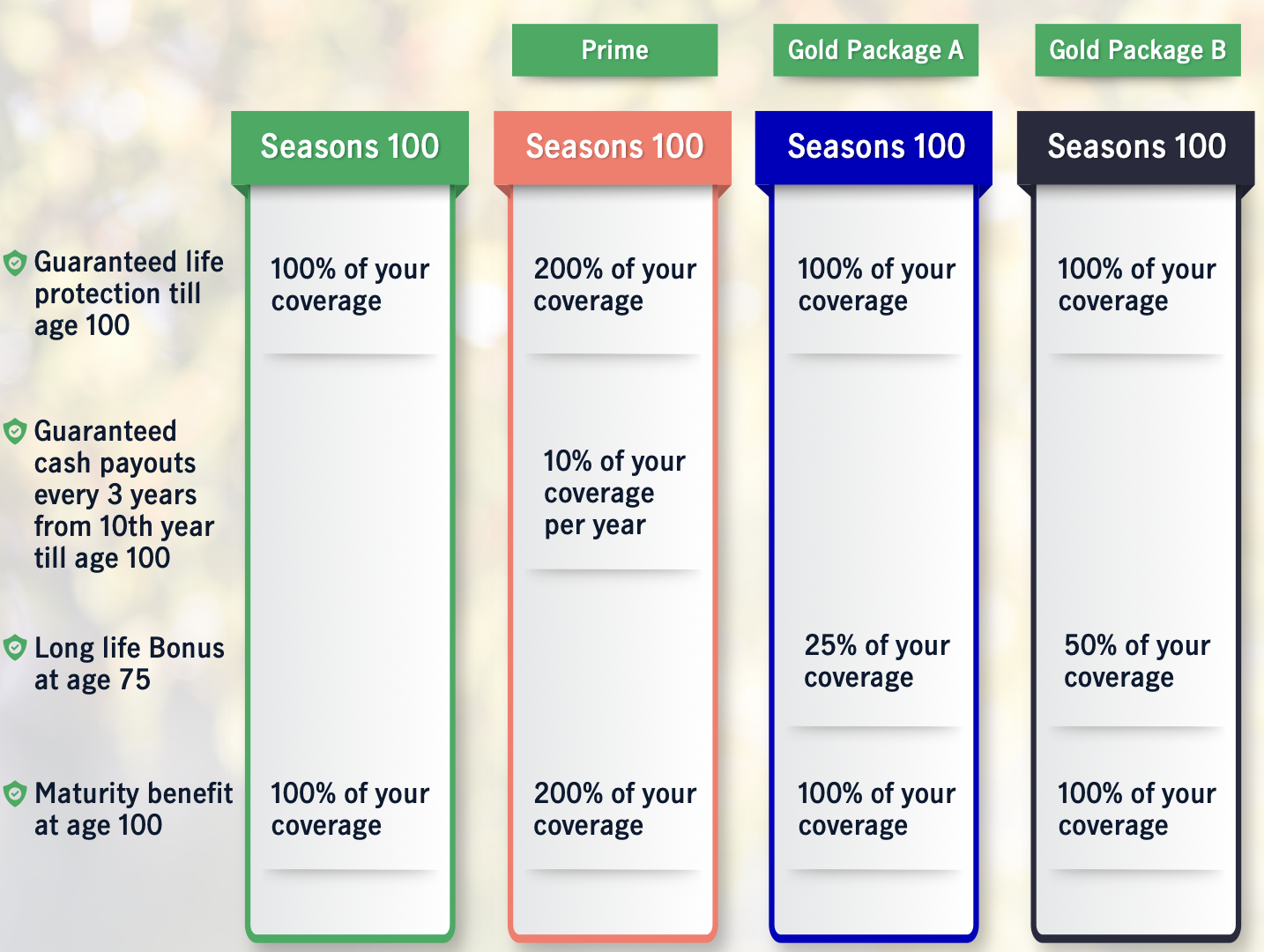 It's essential to tailor your whole life insurance plan to your specific financial goals and needs. The versatility of whole life insurance allows you to customize your policy to align with your objectives, whether they are focused on family protection, financial growth, or long-term planning. Before purchasing a whole life insurance policy, it's advisable to consult with a qualified financial advisor to ensure that the plan aligns with your unique financial situation and goals.